About da Vinci ®
Benign Hysterectomy
Learn about hysterectomy surgery for benign conditions and understand your options
You deserve special care
If you have a benign condition of your reproductive system, it may be affecting your health and quality of life. A benign condition is one that is noncancerous. Common benign gynecologic conditions are fibroids (benign tumors), endometriosis, and pelvic support problems.1 You may be experiencing pelvic pain or pressure, abnormal uterine bleeding, or pain during intercourse.2-4
Understanding your options
Your doctor may recommend waiting to see if your symptoms progress or may try medical options such as medications to address your symptoms. It is possible your doctor may recommend a hysterectomy, a surgery to remove your uterus and possibly your ovaries and fallopian tubes.
Surgeons can perform a hysterectomy through open surgery, which requires a large incision in your abdomen, or a minimally invasive approach. In traditional open surgery, the surgeon looks directly at the surgical area through a large incision and removes the uterus using hand-held tools.
There are three types of minimally invasive approaches: vaginal hysterectomy, laparoscopic hysterectomy, or robotic-assisted surgery, possibly with da Vinci® technology. Vaginal hysterectomy removes the uterus through an incision in your vagina. Doctors perform minimally invasive laparoscopic or robotic-assisted surgeries through a few small incisions or a single small incision near the belly button. To perform a laparoscopic hysterectomy, surgeons use special long-handled tools while viewing magnified images from the laparoscope (camera) on a video screen.
How da Vinci works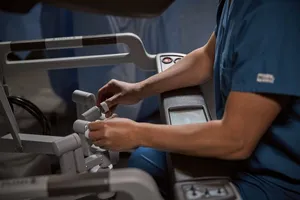 Surgeons using da Vinci technology may be able to remove your uterus through either a few small incisions (cuts) or through one small incision in your belly button using Single-Site® technology. During surgery, your surgeon sits at a console next to you and operates using tiny instruments.
A camera provides a high-definition, 3D magnified view inside your body. Every hand movement your surgeon makes is translated by the da Vinci system in real time to bend and rotate the instruments with precision.
It's important to remember that Intuitive does not provide medical advice. After discussing all options with your doctor, only you and your doctor can determine whether surgery with da Vinci is appropriate for your situation. You should always ask your surgeon about his or her training, experience, and patient outcomes.
Why surgery with da Vinci?
A review of published studies suggests that potential benefits of a benign hysterectomy with da Vinci technology include:
Patients may experience fewer complications compared to patients who had open5-8 and laparoscopic5,8,10 surgery.
Patients may stay in the hospital for a shorter amount of time than patients who had open,5-9 laparoscopic5,6,8-12 and vaginal6,8,9 surgery.
Surgeons may be less likely to switch to an open procedure when performing surgery with da Vinci, compared to when performing laparoscopic surgery.6,10
With da Vinci, you may have a single or few small incisions compared to an open procedure and, after surgery, one or a few small scars.
All surgery involves risk. You can read more about associated risks of hysterectomy for benign conditions here.
Questions you can ask your doctor
What medical and surgical options are available for me?
Which is best for my situation?
What are the differences between open, vaginal, laparoscopic, and robotic-assisted surgery?
If I am a candidate for hysterectomy, how can I prepare for it?
Can you tell me about about your training, experience, and patient outcomes with da Vinci?
Resources for learning more
Hysterectomy surgery brochure
Take away information about benign hysterectomy surgery with da Vinci technology in our brochure designed for patients and their families.
About your options (Download Brochure)
Gynecologic surgery with da Vinci
Robotic-assisted surgery with da Vinci technology is used in many different types of procedures by gynecology surgeons.
---
Hysterectomy. The American College of Obstetricians and Gynecologists. Web. 21 January 2019. https://www.acog.org/Patients/FAQs/Hysterectomy
Uterine Fibroids. The American College of Obstetricians and Gynecologists. Web. 21 January 2019. https://www.acog.org/Patients/FAQs/Uterine-Fibroids?IsMobileSet=false
Endometriosis. The American College of Obstetricians and Gynecologists. Web. 21 January 2019. https://www.acog.org/Patients/FAQs/Endometriosis?IsMobileSet=false
Pelvic Support Problems. The American College of Obstetricians and Gynecologists. Web. 21 January 2019. https://www.acog.org/Patients/FAQs/Pelvic-Support-Problems?IsMobileSet=false
Ho C, Tsakonas E, Tran K, Cimon K, Severn M, Mierzwinski-Urban M, Corcos J, Pautler S. "Robot-Assisted Surgery Compared with Open Surgery and Laparoscopic Surgery: Clinical Effectiveness and Economic Analyses." Ottawa (ON): Canadian Agency for Drugs and Technologies in Health; 2011 Sep.
Landeen, Laurie B., MD, MBA, Maria C. Bell, MD, MPH, Helen B. Hubert, MPH, PhD, Larissa Y. Bennis, MD, Siri S. Knutsten-Larsen, MD, and Usha Seshari-Kreaden, MSc. "Clinical and Cost Comparisons for Hysterectomy via Abdominal, Standard Laparoscopic, Vaginal and Robot-assisted Approaches." South Dakota Medicine 64.6 (2011): 197-209. Print.
Geppert B, Lönnerfors C, Persson J. "Robot-assisted laparoscopic hysterectomy in obese and morbidly obese women: surgical technique and comparison with open surgery." Acta Obstet Gynecol Scand. 90.11 (2011): 1210-1217. doi: 10.1111/j.1600-0412.2011.01253.x. Epub.
Lim, Peter C., John T. Crane, Eric J. English, Richard W. Farnam, Devin M. Garza, Marc L. Winter, and Jerry L. Rozeboom. "Multicenter analysis comparing robotic, open, laparoscopic, and vaginal hysterectomies performed by high-volume surgeons for benign indications." International Journal of Gynecology & Obstetrics 133.3 (2016): 359–364. Print.
Martino, Martin A., MD, Elizabeth A. Berger, DO, Jeffrey T. McFetridge, MD, Jocelyn Shubella, BS, Gabrielle Gosciniak, BA, Taylor Wejkszner, BA, Gregory F. Kainz, DO, Jeremy Patriarco, BS, M. B. Thomas, MD, and Richard Boulay, MD. "A Comparison of Quality Outcome Measures in Patients Having a Hysterectomy for Benign Disease: Robotic vs. Non-robotic Approaches." Journal of Minimally Invasive Gynecology 21.3 (2014): 389-93. Web.
Scandola, Michele, Lorenzo Grespan, Marco Vicentini, and Paolo Fiorini. "Robot-Assisted Laparoscopic Hysterectomy vs Traditional Laparoscopic Hysterectomy: Five Metaanalyses." Journal of Minimally Invasive Gynecology 18.6 (2011): 705-15. Print.
Wright, Jason D., Cande V. Ananth, Sharyn N. Lewin, William M. Burke, Yu-Shiang Lu, Alfred I. Neugut, Thomas J. Herzog, and Dawn L. Hershman. "Robotically Assisted vs Laparoscopic Hysterectomy Among Women With Benign Gynecologic Disease." Jama 309.7 (2013): 689-98. Print.
Orady, Mona, Alexander Hrynewych, A. Karim Nawfal, and Ganesa Wegienka. "Comparison of Robotic-Assisted Hysterectomy to Other Minimally Invasive Approaches." JSLS, Journal of the Society of Laparoendoscopic Surgeons 16.4 (2012): 542-48. Print.
PN 1056682 REV A 03/19
Important Safety Information
Patients should talk to their doctors to decide if da Vinci® surgery is right for them. Patients and doctors should review all available information on nonsurgical and surgical options and associated risks in order to make an informed decision.
Serious complications may occur in any surgery, including da Vinci surgery, up to and including death. Serious risks include, but are not limited to, injury to tissues and organs and conversion to other surgical techniques, which could result in a longer operative time and/or increased complications. For Important Safety Information, including surgical risks, indications, and considerations and contraindications for use, please also refer to www.intuitive.com/safety.
Individuals' outcomes may depend on a number of factors, including but not limited to patient characteristics, disease characteristics, and/or surgeon experience.
Product names are trademarks or registered trademarks of Intuitive Surgical, or of their respective holders.
©2019 Intuitive Surgical, Inc. All rights reserved. Product names are trademarks or registered trademarks of their respective holders. The information on this website is intended for a United States audience only.
---
Website Disclaimer for intuitivesurgical.com and davincisurgery.com
This website does not provide medical advice. If you think you have a medical emergency, call your doctor or 911 immediately.
The materials on this website are for general educational information only. Information you read on this website cannot replace the relationship that you have with your healthcare professional. Intuitive Surgical does not practice medicine or provide medical services or advice and the information on this website should not be considered medical advice. You should always talk to your healthcare provider for diagnosis and treatment. Health information changes quickly. Therefore, it is always best to consult with your healthcare provider.
If you have questions about the da Vinci® Surgical System or about surgical procedures conducted with the da Vinci Surgical System, consult a surgeon that has experience with the da Vinci Surgical System. A list of surgeons that have experience with the da Vinci Surgical System can be found in the Surgeon Locator.