If you plan to have surgery to remove fibroids, the operation is called a myomectomy. Your doctor will take out the fibroid(s) and keep your uterus in place.
A myomectomy can be done using open surgery through one large incision (cut). It can also be done using minimally invasive surgery (laparoscopy), which also includes da Vinci® Surgery.
Why da Vinci Surgery?
da Vinci technology enables surgeons to operate through a few small incisions, like traditional laparoscopy, instead of a large incision. The da Vinci System is a robotically-assisted surgical device that your surgeon is 100% in control of at all times. The da Vinci System gives surgeons: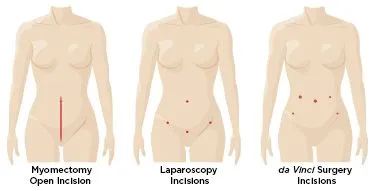 A 3D HD view inside your body
Wristed instruments that bend and rotate far greater than the human hand
Enhanced vision, precision and control
da Vinci Myomectomy offers the following potential benefits compared to open surgery:
Similiar rate of complications1
Shorter hospital stay1,2,3
Lower rate of blood transfusions1,3
Less blood loss1,2,3
Less chance of a post-operative fever2,3
da Vinci Myomectomy offers the following potential benefits compared to traditional laparoscopy:
Similar rate of complications1,3,4
Similar hospital stay1,3,4
Similar conversion rate (switch to open surgery)1,2,4
Similar or less blood loss1,2,4
The da Vinci System has brought minimally invasive surgery to more than 3 million patients worldwide. da Vinci technology – changing the experience of surgery for people around the world.
PN 1002186 Rev E 07/2016
---
Risks & Considerations Related to Myomectomy (removal of fibroid tumors): tear or hole in uterus, split or bursting of the uterus, pre-term (early) birth, spontaneous abortion. Uterine tissue may contain unsuspected cancer. The cutting or morcellation of uterine or fibroid tissue during surgery may spread cancer, and decrease the long-term survival of patients.
Pundir, Jyotsna, Vishal Pundir, Rajalaxmi Walavalkar, Kireki Omanwa, Gillian Lancaster, and Salma Kayani. "Robotic-Assisted Laparoscopic vs Abdominal and Laparoscopic Myomectomy: Systematic Review and Meta-Analysis." Journal of Minimally Invasive Gynecology 20.3 (2013): 335-45. Print.
Reza, M., S. Maeso, J. A. Blasco, and E. Andradas. "Meta-analysis of Observational Studies on the Safety and Effectiveness of Robotic Gynaecological Surgery." British Journal of Surgery 97.12 (2010): 1772-783. Print.
Gobern, Joseph M., C. J. Rosemeyer, James F. Barter, and Albert J. Steren. "Comparison of Robotic, Laparoscopic, and Abdominal Myomectomy in a Community Hospital." JSLS, Journal of the Society of Laparoendoscopic Surgeons 17.1 (2013): 116-20. Print.
Pluchino, Nicola, Piero Litta, Letizia Freschi, Marinella Russo, Giovanna Simi, Anna N. Santoro, Stefano Angioni, Angiolo Gadducci, and Vito Cela. "Comparison of the Initial Surgical Experience with Robotic and Laparoscopic Myomectomy." The International Journal of Medical Robotics and Computer Assisted Surgery (2013): N/a. Web.
Important Safety Information
Patients should talk to their doctors to decide if da Vinci® surgery is right for them. Patients and doctors should review all available information on nonsurgical and surgical options and associated risks in order to make an informed decision.
Serious complications may occur in any surgery, including da Vinci surgery, up to and including death. Serious risks include, but are not limited to, injury to tissues and organs and conversion to other surgical techniques, which could result in a longer operative time and/or increased complications. For Important Safety Information, including surgical risks, indications, and considerations and contraindications for use, please also refer to www.intuitive.com/safety.
Individuals' outcomes may depend on a number of factors, including but not limited to patient characteristics, disease characteristics, and/or surgeon experience.
Product names are trademarks or registered trademarks of Intuitive Surgical, or of their respective holders.
©2019 Intuitive Surgical, Inc. All rights reserved. Product names are trademarks or registered trademarks of their respective holders. The information on this website is intended for a United States audience only.
---
Website Disclaimer for intuitivesurgical.com and davincisurgery.com
This website does not provide medical advice. If you think you have a medical emergency, call your doctor or 911 immediately.
The materials on this website are for general educational information only. Information you read on this website cannot replace the relationship that you have with your healthcare professional. Intuitive Surgical does not practice medicine or provide medical services or advice and the information on this website should not be considered medical advice. You should always talk to your healthcare provider for diagnosis and treatment. Health information changes quickly. Therefore, it is always best to consult with your healthcare provider.
If you have questions about the da Vinci® Surgical System or about surgical procedures conducted with the da Vinci Surgical System, consult a surgeon that has experience with the da Vinci Surgical System. A list of surgeons that have experience with the da Vinci Surgical System can be found in the Surgeon Locator.